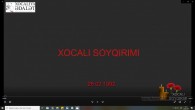 18:16, 26.02.2021
Genetic Resources Institute honored the memory of the Khojaly genocide's victims
The online event began with a minute of silence in memory of the Khojaly genocide's victims and the martyrs who died for the freedom of our lands.
Director of the Institute, Corresponding Member of ANAS Zeynal Akparov noted in his speech that Armenian bandit formations with the support of the 366 motorized infantry regiment of the Ministry of Defense of the Russian Federation committed genocide unprecedented in the 20th century. On February 25, 1992, in the evening at 21-00 Armenian armed forces, 366th regiment (three battalions), as well as hirelings brought from abroad, attacked Khojaly. As a result of military aggression, 613 people were killed, including 106 women, 63 under age children, 70 old people, 8 families were completely destroyed, 25 children lost both parents, More than 1,000 civilians, including 76 children were injured in various degrees, became disabled. 130 children lost one parent, 1275 people were taken prisoner.
Since national leader Heydar Aliyev came to power, and as a result of the consistent and purposeful policy pursued by President Ilham Aliyev Khojaly genocide was recognized at the international level . Z. Akparov also noted that in 2020, under the leadership of the Supreme Commander-in-Chief of the Armed Forces of the Republic of Azerbaijan, President Ilham Aliyev the blood Khojaly's victims was avenged by the victorious Azerbaijani army and our occupied territories were returned.
Then Akbar Karimov, a leading researcher of the institute, previous inhabitant of Khojaly, Phd, Doctor of Biological Sciences, spoke about memories of his parents and near relations on the Khojaly genocide. In his speech, he said that although he was young, he had witnessed the events that happened in his youth, and more than 10 relatives were killed by the Armenian bandit formations.
At the end of the event, a 10-minute video clip dedicated to the Khojaly genocide was shown.