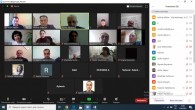 00:35, 16.02.2021
Attestation of master's students was held at Genetic Resources Institute of ANAS.
Under the chairmanship of the Director of the Genetic Resources Institute of ANAS, Corresponding Member of ANAS Zeynal Akperov, the Scientific Council of the Institute conducted attestation of 1st and 2nd year master's students in Biology (specialization - "Human Genetics" and "Genetics") and Agronomy (specialization - "Plant Breeding" and " Plant Protection ").
The meeting also approved the first-year masters research methodology for and the schedule of classes for the second semester, as well as widely discussed the research work of dissertations and publications of second-year master's students.
By the decision of the Academic Council, the activities of the master's students were evaluated positively, and they were transferred to the next semester.