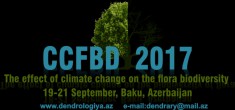 01:22, 25.08.2017
International scientific conference "The impact of climate change on the plant biodiversity" to be held
Institute of Dendrology of ANAS will be held "The impact of climate change on the plant biodiversity" International Scientific Conference on September 19-21, 2017.
At the event will hear reports of scientists and leading experts in various fields of botany.
The conference will be organized under the sections: Impact of global change on biodiversity and biological resources;The impact of environmental pollutants on climate change.The impact of climate change on the distribution, habitat, and the number of species.The study of plant biodiversity in conditions in vitro, in situ, ex situ conditions and legal framework for biodiversity conservation.Influence of natural and anthropogenic factors on biodiversity.Problems of biodiversity conservation.The impact of climate change on landscape architecture of cities.
Phone: (+994 12) 454 30 12, 454 15 00
E-mail: zemfira_abbasova@mail.ru, konfrans_dendrary@mail.ru
Address: Baku, Mardakian, S.Esenina St., 89
Fore more information link here http://www.ccfbd-2017.com
©www.science.gov.az